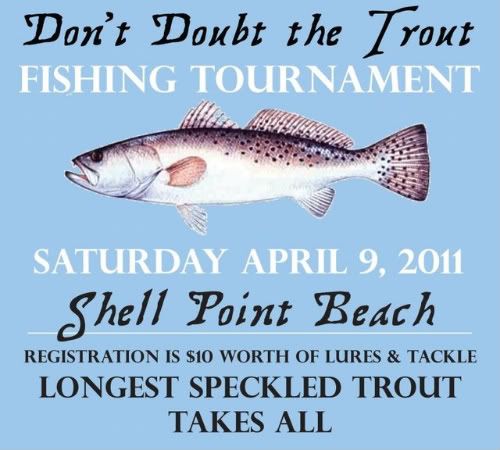 So guys I have my graduate art show the night before on April 8th at the FSU Museum of Fine Art. Hope you guys can come out and see it at 7pm. After all of the hard work and stress of putting it together the tournament is just a way to unwind and have fun.
Don't Doubt the Trout Fishing Tournament
Fish from shore, kayak, canoe, or boat!
...
Registration:You have to go buy at least $10 in lures or tackle and include a legit receipt. None of us want your old tackle or lures you never use.
I'll be gathering the lures and tackle from now to the day of the tourney. You can also bring them 6:45am to 7:16am the day of the tournament under the gazebo @ Shell Point make sure you show up early to make sure your on time. If you get there past 7:16am you won't be able to participate because I will be hitting the water at 7:16am to fish the tournament. Weigh in will be at 1pm sharp!
Angler with LONGEST trout at weigh in time wins entire lot of lures and tackle. Amount of tackle depends on how many people participate. Obviously the more people the bigger the prize.
In the event of a tie. A game of rock, paper, scissors will be the decider. Thats right rock, paper, scissors!
Everyone is required to have or do the following:
-To have a saltwater fishing license to participate.
-To launch from Shell Point OR anyone can fish somewhere else other than Shell Point but must drive from Shell Point at the 7:16am launch time and be back by weigh in at 1 pm sharp.
-Everyone on a boat, kayak, or canoe must be registered to fish in the tournament.
-Hook and line ONLY
I Trevor Brown also reserve the right to disqualify any anglers who break the rules
Figured I would get a grill out there and we can do some sort of BBQ and beach day after fishing.
If you have a facebook please click the attending option on the tournaments facebook page so we have a idea of how many people will be attending. If you don't have a facebook send a pm.
https://www.facebook.com/event.php?eid=172007432848733