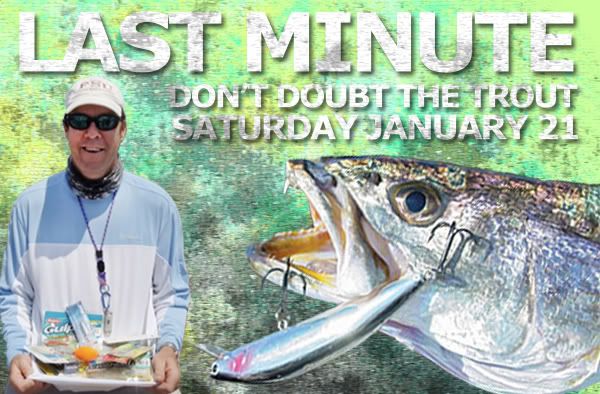 Hey guys I decided to throw a Last Minute Don't Doubt the Trout Saturday January 21st. For those of you not on the forum last time we did this, Don't Doubt the Trout is a tackle tournament. We all had a great time last time so why not do it again. Entrance fee is $10 in tackle. Whoever lands a speckled trout with the longest length wins the whole lot of tackle. Everyone needs to be back in for the "length in" that will be at 2pm at the fort. Anyone there after 2:10pm on my watch will not be able to submit a fish. I will be bringing a small grill and some food for after. JT won $140 worth of tackle last time with his 25in trout! This time I am holding the tournament at the fort where the Wakulla and St. Marks rivers meet. I open this fun little tournament up to anyone who wants to come fish in it. Fish from shore, kayak, canoe, boat, whatever means necessary. People can show me the fish in person or through a photo. The night before the tournament I will be emailing what the identifier (common household object) will be. This identifier will needed to be clearly seen in photos of the fish on the measuring board. Everyone fishing is expected to follow all safety laws, rules, and regulations. Everyone must have a Forida fishing license. PM, or reply with your email and any questions. -Trevor
January 21 St. Marks River info taken from
http://www.Tides4Fishing.com
On Saturday, 21th of January of 2012, the sun will rise in St. Marks (St. Marks River) at 7:32 am and sunset will be at 6:04 pm. The moon will rise in the southeast (115º) at 5:59 am and will set in the southwest (246º) at 4:41 pm.
In the high tide and low tide chart, we can see that the first high tide will be at 12:23 am and the next high tide at 2:05 pm. The first low tide will be at 8:01 am and the next low tide at 7:45 pm.
The tidal coefficient will be 87, a high value and therefore the range of tides and currents will also be high. The tide heights will be 3.0 ft, -1.0 ft, 2.7 ft and 1.0 ft. We can compare these levels with the maximum high tide recorded in the tide tables for St. Marks (St. Marks River) which is of 4.1 ft and a minimum height of -1.3 ft.
Here's a look at last time's group. Good times with good people!