As a preface to this review i should explain what has brought me to purchase this combo.
In freshwater fishing for bass, bream, and specs in our local ponds and lakes, i have found that a shorter flyrod offered advantages over a longer one. Reason being, was that out of a kayak, a more accurate cast was more important than a longer cast. For that reason, i use a 7'-6" tfo lefty series 5/6wt. I have always felt that i have an advantage over conventional tackle in freshwater when it comes to quantity of fish caught. And so about a couple years ago when i decided to take up the fly in the salt, i figured, no problem. However, that was not to be the case.
After some research, i purchased a nice 8wt loomis combo and headed out to the salt. A whole new set of challenges confronted me. Heavier flies, stronger winds, and heavier tackle. The latter being the bummer. It seems that i could never get used to throwing the 8wt. So i figured that i should step up the $$ and buy a really nice, light, professional grade rod and reel. So i did. And even though it was an improvement, i still never felt that i could throw a fly all day in the type of waters that i wanted to fish in. Then it came to me. The reason that the rods always seemed heavy to me was because of the length, not the weight. Boom! So then it was a matter of finding the right combo and liquidating the current gear. Done, and Done.
After some additional research i found what i believe to be the ideal saltwater combo for fly fishing tight, small, marsh areas, while sitting in a kayak.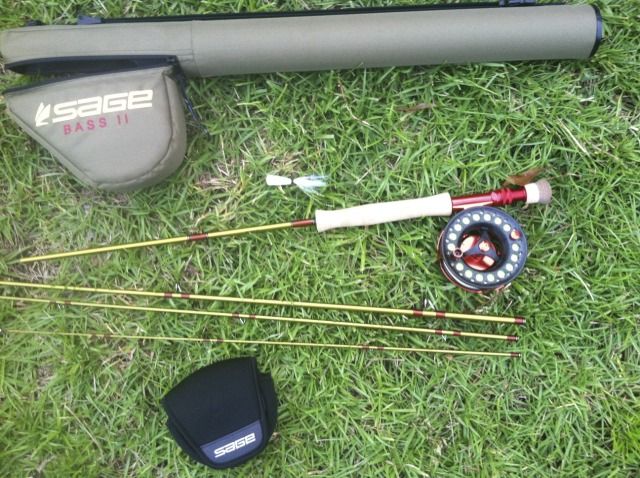 The Sage Bass II, 7'-11" long, 290grain flyrod. Although labeled "smallmouth", it is described on most websites as being ideal for redfish, trout, and snook. The 7'-11" length makes it legal for bass fishing tournaments. The 290gr is equivalent to about a 7-8 wt line. The matching reel is super light, and is made to hold up to all water types. The rod is a 4 piece rod that is impeccably made. No worries about the the connections. The rod comes with the matching line, which is one of Sage's big parts of the system, in that the line is specifically matched to the rod. The reel comes with a Hard "soft" case, and the rod comes with the cloth covered, hard travel tube.
After throwing the combo in the yard for a good 30 minutes, my first response was holy shiiiiiiiiiiiiiite! The flyline flies off of this rod. I can cast pretty well and have been fly fishing for quite a long time, but i have never been able to throw such heavy flies such a far distance before. 2 or 3 false casts and i was able to throw down to the backing! And although i typically don't have a need to throw this distance, it's nice to know that i can. The rod throws with ease and the combo is extremely well balanced for throwing all day. And on top of all of that, i was able to nail the target with continued accuracy. Can't wait to get this combo wet and soak some of these newly made poppers.